Pokayoke Tools
Check Pen S
Summary
Check Pen S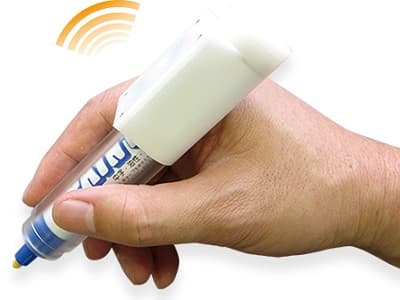 The Check Pen S is a up-to-date check pen that helps to prevent the omission (pokayoke) of the marking work.

Please watch a video of Pokayoke using Check Pen S.

Due to the embedded wireless module HRF-2402, the pen can communicate with a Pokayoke receiver. We offer products that are compatible with various brands of pens, such as Mitsubishi Pencil, Shachihata, Pentel, Pilot Corporation, etc. Pens sold in your country can be also supported. Please contact us.

(*)HRF-2402 is a wireless module equipped with various interfaces. By installing an interface board equipped with the necessary input and output capabilities, the module can be attached to various tools. Our original product the Check Pen S also comes with the module embedded. This module can communicate with Pokayoke receivers TW-800R-***.
Line-up
We support various commercially available pens. Pens sold in your country can be also supported. Please contact us.

(Cases of pens sold in Japan)
Type
Product Number
Pen Manufacturer
CP-02S
PX-20

Mitsubishi Pencil

Magic Ink No.500
Teranishi Chemical Industry
M-20PM

Pilot Corporation
CP-03S
MMP-20

Pentel
CP-05S
PX-21
Mitsubishi Pencil
CP-06S
400FX
Shachihata
CP-07S
WBMK-M
Pilot Corporation
CP-08S
♯600
Alton
CP-11S
K-177N
Shachihata
* Other manufacturers and pens are also available. Please contact us.
Please feel free to contact us regarding product inquiries, opinions, or requests.
Contact Us via Email