Summary
Check Pen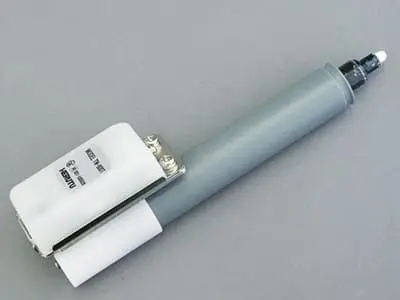 The check pen is a tool that allows you to attach a transmitter to various pens for work confirmation.
The check pen has a built-in spring and switch inside, and when the transmitter is attached, it can transmit a signal when the pen is pressed. We offer products that are compatible with various brands of pens, such as Mitsubishi Pencil, Shachihata, Pentel, Pilot Corporation, etc.
The check pen can be used for pokayoke (mistake prevention) by pairing it with a receiver.

Please check a up-to-date check pen "Check Pen S".
Line-up
The following models do not include the transmitter. Please order the transmitter separately.
Type
Product Number
Pen Manufacturer
CP-02
PX-20

Mitsubishi Pencil

Magic Ink No.500
Teranishi Chemical Industry
M-20PM

Pilot Corporation
CP-03
MMP-20

Pentel
CP-05
PX-21
Mitsubishi Pencil
CP-06
400FX
Shachihata
CP-07
WBMK-M
Pilot Corporation
CP-08
♯600
Alton
CP-11
K-177N
Shachihata
* Other manufacturers and pens are also available. Please contact us.
Please feel free to contact us regarding product inquiries, opinions, or requests.
Contact Us via Email