Pokayoke Tools
Hard-hat-on Sensor ENS-HH01
Ensuring Traceability of Safety
Real-time detection of Hard-hat's tightened Chin-Strap
Hard-hat-on Sensor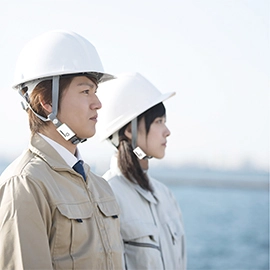 The Hard-hat-on Sensor is a wearable device that prevents accidents that occur when employees are not wearing hard hats.
The sensor is easily attached to a hard hat's chin strap, and it can be used both inside and outdoors because it is waterproof and dustproof.
● The sensor is easily attached to a hard hat's chin strap.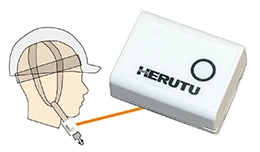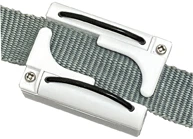 Real-time detection of
Hard-hat's tightened Chin-Strap
Hard-hat-on Sensor
ENS-HH01

Attaches easily to a chin strap
Dustproof and Waterproof (IP65)
Equipped with wireless technology
with abundant proven results at
industrial sites
No battery replacement required for
1 year based on:
- Depending on usage conditions
- Wearing for 8 hours a day
- Battery level notification feature

Approx.
30m (98ft)
Capabale of Communication
with Pokayoke Receiver
Pokayoke Receiver
TW-800R-EXL

An unlimited number of hard-hat-on
sensors can be connected to one receiver.
A waterproof receiver can be
custom-made.
Receivers can be imported
into your system via PLC.
TW-800R-EXS

TW-800R-EXB
RS-232C
CC-Link IE
Field Basic

PLC(Programmable Logic Controller)
Your System
LAN

Ensuring Traceability of Safety
Application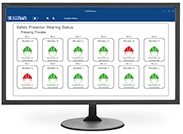 This application makes it possible to monitor whether workers are
wearing hard hats at remote
locations
The application notifies error
information from Hard-hat-on
Sensor by mail or sms in real-time

Mail
SMS
Messaging App

- Transmitter ID
- Wearing Status
- Transmitter Name
- Timestamp, etc.
Specifications
Item
Specification
Frequency Band
2,403 MHz-2,478 MHz
(A free channel is selected automatically by a frequency hopping function.)
Antenna
Chip Antenna
Input
2 Touch Sensors
Comm. Distance
30 m/33 yd (depends on usage conditions)
Protection Structure
Waterproof and Dustproof (Protection Structure IP65)
Display
Communication Result and Time to Replace
the Battery Notification LED (Green)
Switch
1 Test Switch(also as switch for pairing)
External Dimensions
(W x H x D)
28.6 x 17.0 x 37.6 mm (1.1 x 0.7 x 1.5") (excluding protrusions)
Power Source
1 Coin Battery (CR2032)
Battery Life
For about 1 year by wearing for 8 hours a day
(depending on usage conditions)
Weight
Approx. 19g (0.67 oz)
Operating Environment
Temperature: 0-50 °C (32-122 °F)
Humidity: 85% or less
Available Countries
Japan / Canada / USA / China / Thailand / Vietnam / Philippines / India
Accessory
1 Coin Battery (CR2032)
Options
Touch Sensor [S20006-25-00]
Options
Touch Sensor
[S2-0006-25-00]
Catalog
Please feel free to contact us regarding product inquiries, opinions, or requests.
Contact Us via Email