Wireless Call Systems
LAN Connection Type Andon Receiver WCL-920R
Immediately Gather Reports of Trouble Occurrences on the Production Line
LAN Connection Type
Andon Receiver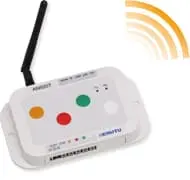 Communication Distance
● Standard Mode
Indoor: approx. 500 m (0.31 mi.)
Line of sight: approx. 1 km (0.62 mi.)
● Long Range Mode
Indoor: approx. 1 km (0.62 mi.)
Line of sight: approx. 2 km (1.24 mi.)
WCL-920R (for US, Canada)
This LAN connection type Andon*1 receiver is easily installable and requires no wiring work. It is perfect for customers who say, "I want to respond immediately to problems that occurred on the production line" or "I want to analyze the history of troubles that occurred on the production line."
Reports Trouble Occurrences on the Production Line Immediately
CASE 1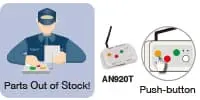 CASE 2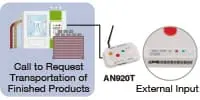 CASE 3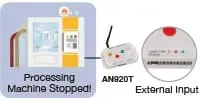 CASE 4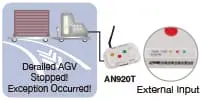 Real-Time Gathering of Reports on Trouble Occurrences from Workers and Machines
The WCL-920R can wirelessly receive in real-time trouble occurrence reports transmitted from the AN920T transmitter installed at the workstations and machines of the production line.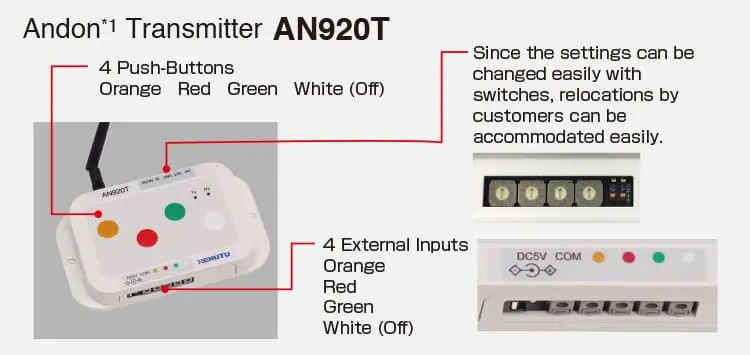 At the transmitter, there are two selectable input methods for reporting trouble occurrences: one for workers with four push-buttons (orange, red, green, and white) and one for machines with four external inputs (orange, red, green, and white). According to possible trouble occurrences in the production line, you can assign each color a meaning, such as red for an exception occurrence, orange for parts out of stock, green for requesting transportation of finished products, or white for trouble solved.
Within one factory, up to 16 WCL-920R can coexist. Each can wirelessly communicate with up to 800 transmitters, which allows for the gathering of reports of trouble occurrences from up to 12,800 locations.
External Output of Information on Trouble Occurrences on the Production Line via LAN
The WCL-920R can externally output the received reports of trouble occurrences via LAN. By utilizing and analyzing the information of trouble occurrences on the production line with applications on computers, tablets and in the cloud, the WCL-920R can be useful for visualizing and improving the operation status of the production line.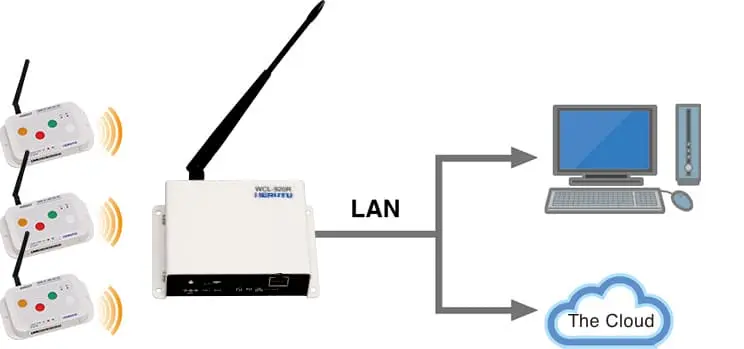 Using the Windows application "Production Process Support Software for WCL Series WCL plus," you can save the trouble occurrence history received by up to 10 Andon*1 receivers in the CSV format.
Possible Linkage with Wireless Andon*1 AN920
When the wireless Andon*1 series AN920 is in place at the production site, the installed transmitter AN920T can be used as is.*2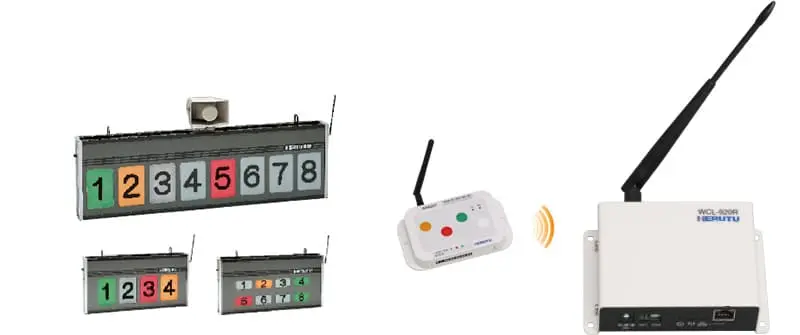 *1: A system to notify management, maintenance, and other workers of a quality or process problem.
*2: It may be necessary to change the frequency of your transmitter / receiver.
Catalogs
Please feel free to contact us regarding product inquiries, opinions, or requests.
Contact Us via Email